WorkCompEvent.com Registration System

OCTOBER 18-19, 2023
GREATER RICHMOND CONVENTION CENTER
403 N. 3rd Street, Richmond, VA 23219
The Virginia Workers' Compensation Commission and the International Workers' Compensation Foundation are jointly sponsoring this educational conference, which is unique in Virginia.
The goal of this conference is to educate all those who participate in the Virginia workers' compensation system regarding current rules, procedures, policies and forms, and to provide an opportunity for dialogue among these participants.
Breakout sessions will be utilized to discuss certain topics in specific detail for a more specialized view, while other topics will be presented from a more general perspective.
All employers, insurance adjusters, self-insurers, third party administrators, safety and human resource managers, plaintiff's and defense attorneys, health care providers, mediators, and medical and vocational rehabilitation providers are encouraged to attend. Anyone with a professional interest in the workers' compensation system in Virginia will receive valuable information at the conference.
Materials will be available to download from the free conference app. Business casual attire.
CONTINUING EDUCATION CREDITS
Attendees may be eligible for up to 9 hours of Continuing Education Credits (CEU) for conference participation. CEU applications are pending for approval in the following disciplines: Rehab providers (CEU's for CDMS and CCM), attorneys (MCLE), insurance producers (agents and brokers), and human resources professionals (SHRM).
PARKING
Visit richmondcenter.com for directions, parking rates and center details.
LODGING
Get a conference group rate of $184 (single/double) per night at the Hilton Richmond Downtown.
Reserve the group rate here by September 17th or call the hotel at 800-HILTONS and reference the VWC Conference 2023.
Net proceeds, if any, go to the International Workers' Compensation Foundation (FEIN# 35-1737364), a non-profit organization, to further its work in workers' compensation education and outreach.
Produced in Partnership With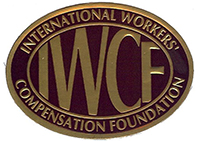 Online Registration Provider

Use of this site is subject to the
following privacy policy.
For additional information contact the IWCF at:
Phone: 386-677-0041 • Fax: 386-677-0155
Email: co************@iw**.us