WorkCompEvent.com Registration System

Attendee Registration
Registration Fees:
$400 per person paid on or before March 31, 2023
$450 per person paid thereafter
LODGING – The famed Graduate Providence (formerly Providence Biltmore Hotel) is the host hotel. A block of rooms has been reserved with a conference rate of $149/night. These rates will be available through March 28, 2023, unless this block becomes fully reserved prior to this date. Register early! Book online at tinyurl.com/RIConf23. Or call (401) 421-0700, choose Option 1, and give group code 2304IWCF23.

CONTINUING EDUCATION – Application pending for up to 10 hours of Rhode Island CLE for attorneys; and up to 8.5 hours of CDMS and CCM credits for rehabilitation professionals; CE credits for insurance producers; and SHRM credits for human resource professionals. A certificate of attendance will be provided for other professional disciplines.

CANCELLATION REFUND POLICY – Cancellation of preregistration must be made before 5:00 PM on April 15, 2023. Substitution of personnel is recommended in lieu of cancellation after that date. The full registration fee will be forfeited if you fail to attend or cancel timely. All registrations are fully transferable to another person.

SPECIAL NEEDS – Individuals attending the conference who may need auxiliary aids or special services are requested to provide notice of their needs in writing no later than 10 working days before the Conference so that appropriate arrangements can be made.

DRESS CODE – Casual clothing is appropriate for all events.

For further information contact the IWCF at (386) 677-0041, Fax (386) 677-0155 or email co************@iw**.us.
---
Proceeds from this event, if any, go to the nonprofit International Workers' Compensation Foundation (FEIN# 35-1737364), to further its work in workers' compensation education and outreach.
Produced in Partnership With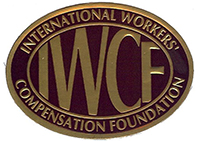 Online Registration Provider

Use of this site is subject to the
following privacy policy.
For additional information contact the IWCF at:
Phone: 386-677-0041 • Fax: 386-677-0155
Email: co************@iw**.us