WorkCompEvent.com Registration System

A conference designed with you in mind
May 9 and 10, 2024
The Oregon Workers' Compensation Division, with sponsorship from the International Workers' Compensation Foundation, coordinates this educational conference for those who participate in the Oregon workers' compensation system. The conference is designed to enhance understanding of the system and improve processes and services that affect injured workers and employers. The general sessions cover topics of interest for the entire workers' compensation community, with concurrent workshops and information booths providing detailed coverage of specific areas of interest. The conference also includes an exhibit hall.
Additionally, the conference will give you a chance to connect with the Division leadership, leading experts, colleagues, and old and new friends. This is your opportunity to share ideas, ask questions, and discuss issues that affect your organization.
Who should attend?
Employers, attorneys, safety and human resource managers, insurers, self-insured employers, third-party administrators, claim-closure service providers, insurance agents and brokers, injured workers, union representatives, providers of medical treatment and evaluation, organizations that handle billing and documentation, managed care organizations, vocational and physical rehabilitation providers, transportation and language service agents, and private investigators are encouraged to attend. In fact, anyone with a professional interest in the workers' compensation system in Oregon will receive valuable information at this conference.
Location:
Holiday Inn Portland – Columbia Riverfront
909 N Hayden Island Dr.
Portland, OR 97217
503-283-4466
Reservations:
Oregon Workers' Compensation Educational Conference – Holiday Inn Columbia Riverfront
Contact information:
Workers' Compensation Division (WCD)
Jennifer Hlad
971-719-6023
Je*************@dc**.gov
P.O. Box 14480
350 Winter St. NE
Salem, OR 97309-0405
International Workers' Compensation Foundation (IWCF)
Eric Oxfeld or David Earnest
386-677-0041
Fax: 386-677-0155
eo*****@iw**.us
de******@iw**.us
570 Memorial Circle, Suite 320
Ormond Beach, FL 32174
Net proceeds from this event, if any, go to the International Workers' Compensation Foundation (FEIN# 35-1737364), a non-profit organization, to further its work in workers' compensation education and outreach.
Produced in Partnership With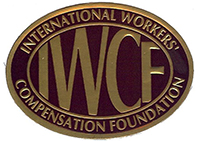 Online Registration Provider

Use of this site is subject to the
following privacy policy.
For additional information contact the IWCF at:
Phone: 386-677-0041 • Fax: 386-677-0155
Email: co************@iw**.us