WorkCompEvent.com Registration System

Lodging: The Holiday Inn Portland – Columbia Riverfront has reserved a block of discount rooms starting at the rate of $159 per night for a single or a double, plus applicable taxes. The rooms will be held through Wednesday April 16, 2024, unless the block is fully reserved before this date. Tell the hotel that you are attending the Oregon Workers' Compensation Educational Conference when you make reservations. Reserve your room online at Oregon Workers' Compensation Educational Conference – Holiday Inn Columbia Riverfront Or reserve lodging at the group rate by calling the hotel's direct number, 503-283-4466, and ask for the Oregon Workers' Compensation Conference. Hotel reservations alone do not guarantee admission to the conference.
Dress:
Business casual attire is appropriate for all events.
Continuing education units (CEUs):
Continuing legal education credit from the Oregon State Bar is pending for attorneys. Certified Disability Management Specialist and Certified Case Manager CEUs will be available for rehabilitation providers. Society for Human Resource Management CEUs will be available for human resources professionals. Insurance agents can also earn CEUs. Certificates of attendance will be available for other disciplines upon request.
Cancellation and refund policy:
Written cancellations and requests for refunds must be received by IWCF by 5 p.m. EDT on Wednesday, April 24, 2024. After that date, the full registration fee will be forfeited if you do not attend. Substitution of personnel is recommended in lieu of cancellation after April 24, 2024.
Special needs:
Individuals who need special services should notify the Workers' Compensation Division no later than 15 working days before the conference. Please contact Jennifer Hlad by phone, 971-719-6023, or email to je*************@dc**.gov.
For conference information and scheduling updates, visit WCD's website at wcd.oregon.gov.
Produced in Partnership With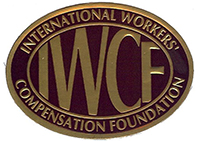 Online Registration Provider

Use of this site is subject to the
following privacy policy.
For additional information contact the IWCF at:
Phone: 386-677-0041 • Fax: 386-677-0155
Email: co************@iw**.us