WorkCompEvent.com Registration System

Exhibitor Terms and Registration
ATTENTION EXHIBITORS
Fee of $800 includes two (2) complimentary registrations for exhibitor representatives. A separate attendee registration form should be completed for each additional registrant.
Space is offered on a first-come, first-served basis. For additional information regarding exhibit area, contact the IWCF office at (386) 677-0041. Booth setup will be in the exhibitor area on Wednesday, September 6, 2023, from 5:00 pm to 6:30 pm. Teardown will be on Friday, September 8, 2023, at 11:15 am.
Refreshment Breaks will be held in the Exhibition area. Registration fee includes one 6' draped table and two chairs, identification sign, and registration for two representatives. Full fee forfeiture if unable to attend.
Exhibitor Insurance Hold/Harmless Clause
Exhibitor assumes entire responsibility and hereby agrees to protect, indemnify, defend, save and hold harmless the International Workers' Compensation Foundation (IWCF), its employees and agents, Chelsea Place Meetings and its employees and agents, and the Tuscany Suites and Casino against all claims, losses and damages to persons or property, governmental charges or fines and attorney fees arising out of or caused by exhibitor's installation, removal, maintenance, occupancy or use of the exhibition premises or part thereof, excluding any such liability caused by the sole negligence or concurrent comparative negligence of the Tuscany Suites and Casino and their employees and agents, Chelsea Place Meetings and its employees and agents, as well as the IWCF, its members, employees and agents.
In addition, exhibitor acknowledges that the Tuscany Suites and Casino, Chelsea Place Meetings and the IWCF do not maintain insurance covering exhibitors' property or potential liabilities and that it is the sole responsibility of the exhibitor to obtain business interruption insurance, property damage insurance and liability insurance covering such losses by exhibitor. Exhibitor shall obtain and keep in force during the term of the installation and use of the exhibit premises, policies of comprehensive general liability insurance and contractual liability insurance and specifically referring to contractual liability set forth in the foregoing paragraphs hereof, in an amount not less than $1,000,000.00 combined single limit for personal injury and property damage. The Tuscany Suites and Casino, Chelsea Place Meetings, and the IWCF shall be included in such policies as additionally named insureds for this convention only.
Produced in Partnership With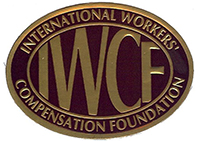 Online Registration Provider

Use of this site is subject to the
following privacy policy.
For additional information contact the IWCF at:
Phone: 386-677-0041 • Fax: 386-677-0155
Email: co************@iw**.us