WorkCompEvent.com Registration System
Murfreesboro, TN , June 14-16, 2023

Exhibitor Registration
This event has concluded, and registration for this year is closed. See you next year!
Materials – Materials will be available to view or download prior to the conference at tn.gov/workers-comp-conference.

Lodging – The spacious Embassy Suites Nashville SE Hotel is located at 1200 Conference Center Blvd., Murfreesboro, TN 37129, less than 35 minutes from the airport & 30 minutes from downtown Nashville. A block of rooms has been reserved at the rate of $184 (king) or $197 (2 queens) plus applicable taxes. This rate will be available through May 14, 2023, unless this block becomes fully reserved prior to this date. Register early by calling the hotel's direct number, (800)-EMBASSY (and give group code: IWC). Or book online using the Chrome Internet browser at tinyurl.com/TNBWCConf2023. Hotel reservations alone do not guarantee admission to the conference.

Cancellation Refund Policy – Cancellation of pre-registration must be made before 5:00 PM (Central) on June 2, 2023. Substitution of personnel is recommended in lieu of cancellation after that date. The full registration fee will be forfeited if you fail to attend or cancel timely.
Special Needs – Individuals attending the conference who may need auxiliary aids or special services are requested to provide notice of their needs in writing no later than 10 working days before the conference so that appropriate arrangements can be made.
Dress Code – Business casual clothing is appropriate for all events.
For further information, contact the IWCF at (386) 677-0041, Fax (386) 677-0155, or email: Co************@iw**.us
Net proceeds from this event, if any, go to International Workers' Compensation Foundation (FEIN#35-1737364), a non-profit organization, to further its work in workers' compensation education and outreach.
Produced in Partnership With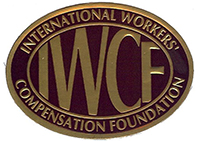 Online Registration Provider

Use of this site is subject to the
following privacy policy.
For additional information contact the IWCF at:
Phone: 386-677-0041 • Fax: 386-677-0155
Email: co************@iw**.us